LMS Evaluation Checklist: choosing a learning management system
What to look for in an LMS? You're looking into a new LMS and don't know where to start? We have a handy checklist to discuss with your team and choose the LMS which suits your needs best.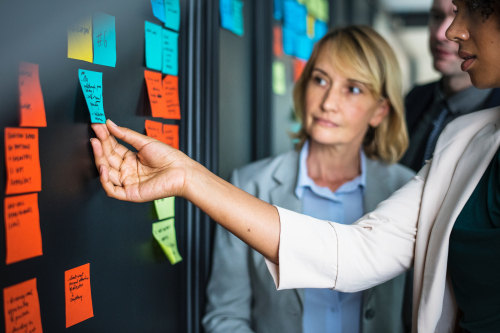 Look at the talents of your learning & development team
Do you have a big team with different talents and do you want to take everything in your own hand? Or are you a small team and do you want focus on creating courses and get your students or colleagues to start learning? Find an LMS according to the talents of your team.
How to integrate with other software you use
You'll probably use a lot more software than just an LMS. Look into the availability of options to connect or integrate with other software. Does the LMS supports outgoing webhooks? Can you connect to much used software like MailChimp or Hubspot?
Review experience and reviews of the LMS vendor
Look into the company who is creating the LMS. Is it a new kid on the block or is it a legit company? Is it big? Bigger is mostly more expensive and not as good as a smaller company in support and helping you get the most out of their product. Look for LMS reviews to learn what users think of the company.
Saas vs installed on your own server
Learning management systems can be divided in two big chunks: online LMS (Saas) or installed software on your own server. Which do you prefer? Saas is mostly cheaper, quicker to start using and you don't need to run your own servers. So you don't need IT. If you choose to install it on your own servers that's ok with us... but we think it's something of the early 2000's.
What support is offered with the LMS
Everybody promises an easy to use interface. But believe us: you're going to have questions. Probably more than one. How is the support of the LMS vendor? An LMS is not something you choose overnight. You're going to invest a lot of time and money in your LMS, so better get some help from the pros behind the LMS. Check Capterra to read up about our reviews.
Features vs needs
You can probably make a long list of features you want from an LMS. And if you have a meetup with your colleagues and your boss, the list will get a lot longer. Probably too long. Do you really need all those features? We suggest you look at what you need. Features make the system expensive. Needs are essential. Focus on what you need to get the best learning experience and which needs reduce the time to manage your courses.
Do I (really) need (the restrictions of) SCORM
There's a lot to say about SCORM. But you should ask yourself: "Do we really need SCORM?". SCORM has much restrictions. And what do we lose if we choose SCORM? Don't we want to move learning forward and online? When was de last time we took advantage of SCORM? And when was it a hassle? Or did it result in less beautiful experiences? Do some soul-searching.
Branding
Is it possible to brand your online courses? That's good if you need it. Beware though, you don't want to design the online course yourself or have to build it from the ground up. You want a well designed distraction free-learning platform for maximum results. Too much distraction hurts the learning. So ideal would be that is looks beautiful from the start and it gives you the possibility to brand it.
Reporting
Have a look at the reporting module of the LMS. What does it track? And how easily can you download the results to Excel?
Content Creation & Management
Do I need a separate LCMS to create and manage my online course content? Or is the course builder included in the LMS software?
Pricing and pricing models
Look at the pricing and pricing model of the different vendors. Do you pay per student? And how much? Or is it a flat fee (which is mostly cheaper than paying per student). Does the LMS vendor charge you for the setup of the system (with software) or is it a pay per month model? The last one is mostly cheaper. And how much is the price? Learning management systems can cost a lot of money, but it doesn't have to be that expensive.
Just have a look at our pricing. Our pricing ranges from $20 to $100 a month, while other systems start at $300 a month.
Useful resources
More articles that might interest you