What is the definition of mobile learning (m-learning)?
Mobile learning, also known as m-learning, is a new way to access learning content using mobiles. Mobile learning supports, with the help of mobile devices, continuous access to the learning process. This can be done using devices like your phone, laptop or tablet. You can learn wherever and whenever you want! With the advent of mobile learning, educational systems are changing.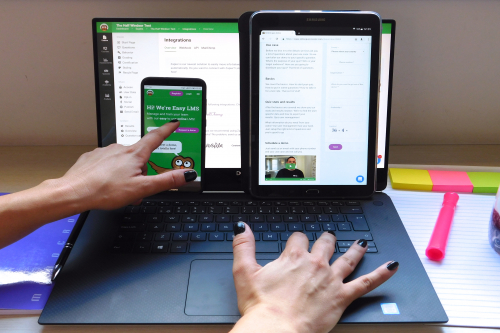 What's the importance of mobile learning? Let's take a look at mobile learning in education and compare the advantages and disadvantages of mobile education.
M-learning in education
More and more schools are starting to use laptops or tablets. They're fun for children and adults. Educational apps are becoming increasingly available to teachers and trainers.
Examples of mobile learning in education:
Offering mobile learning material
This is the most common way of using mobile learning. You can offer texts, videos or audios. Participants can be given assignments after watching a video that their instructor has put online. This method of mobile learning is relatively less interactive. It's more about individual consumption. There is no interaction between the trainer and the learners, which makes it an asynchronous way of learning.
Interaction during lessons
Instructors can also use mobile devices to increase interaction. For example, you can ask questions during your training by using online discussion forums or asking your learners to complete a survey after taking a training.
Instructors ask questions and the learners answer them using their mobile devices or communicate between themselves in a group discussion forum. It's possible to get immediate feedback. This is especially effective when training large groups.
Synchronous learning
Would you like to have immediate feedback from your teacher or fellow students? This is possible with synchronous learning. You are able to get direct feedback even when you are at home. In addition, teachers can interact with their students during lectures.
Advantages of mobile learning
Wherever and whenever
It's possible to lay in bed and watch a lecture or complete a survey whenever you want.
Motivation
"We are going to take an online quiz!" You can see the smile on the children's faces. Children are motivated to learn when they can use tablets or other mobile devices.
Employees also feel more motivated to learn something new or to take a training if they can take their learning materials everywhere with them, especially when they don't have time to learn during their regular work hours.
Different types of content
You can add videos, audio files, and images with mobile learning. Videos make it possible to make learning livelier and more interesting.
Long distance is not a problem
While one learner might be in New York and the other in Amsterdam, it's still possible to view the same content and take the same tests! This is one of the main benefits of mobile learning.
Disadvantages of mobile learning
Distraction
Mobile devices can be a great distraction for participants. Children like learning on tablets, but gaming on tablets seems to be even more fun! As a teacher you are not always able to control what your pupils are doing on their tablets.
For adults, mobile learning can also be distracting if your users get constantly interrupted with text messages and notifications. Therefore, it requires self-discipline and focus on their part.
However, if you can make your training interactive and fun, the other applications available on mobiles won't be a distraction for your learners.
Lack of Internet connection or electricity
Using mobile devices for e-learning could be an issue if your users don't have Internet connection or electricity readily available.
In spite of that, data gathered by GSMA intelligence indicates that there are now more mobile devices than there are people in the world. Considering the enormous growth of mobile devices, a lack of Internet connection, poor connection quality, and restricted access to electricity should become problems of the past.
M-learning and our LMS
Mobile learning is certainly possible with our learning management system. The interface is set up to be fully responsive, which means it will look awesome and work beautifully on all sorts of devices, desktops and mobiles.
You're good to go with any modern device with a screen and an internet connection. ✨
With Easy LMS, you can easily create tests and training materials with videos, images and much more. You can set up discussion forums and provide real time interaction between learners.
It's also possible to share a survey with your users that they can answer during a lecture or training session.
Useful resources
More articles that might interest you