How we adapted our work life during the Corona crisis
Who would have ever thought that the world would change so much in a few weeks just because of a virus? To execute our daily work, we had to come up with a plan B. Read how we went from working at the office to fully remote in such a short time and still managed to get work done.
So, March was a crazy month for most people around the world and everyone was affected in different ways. Since our office is in the Netherlands, we had to undergo a lot of drastic changes in a very short time.
I've been working remotely from Brazil (no, I don't work from the beach) for a long time, so my work routine hasn't changed that much (ok, except for the fact that I had to cancel my planned trip to the office this year). My colleagues have had the option to work from home when they wanted, but most of them went to the office regularly and enjoyed it.
That suddenly changed on March 13th, when we received an email telling us to work from home and not go to the office until further notice. I think that, as a company, we adapted quickly to the new situation. So, we organized an interview with our Founder/CEO/CSO, Jeroen, and our Founder/CTO, Job, to find out their views are on the situation, the feedback they have heard from the team about the new reality, and the lessons learned.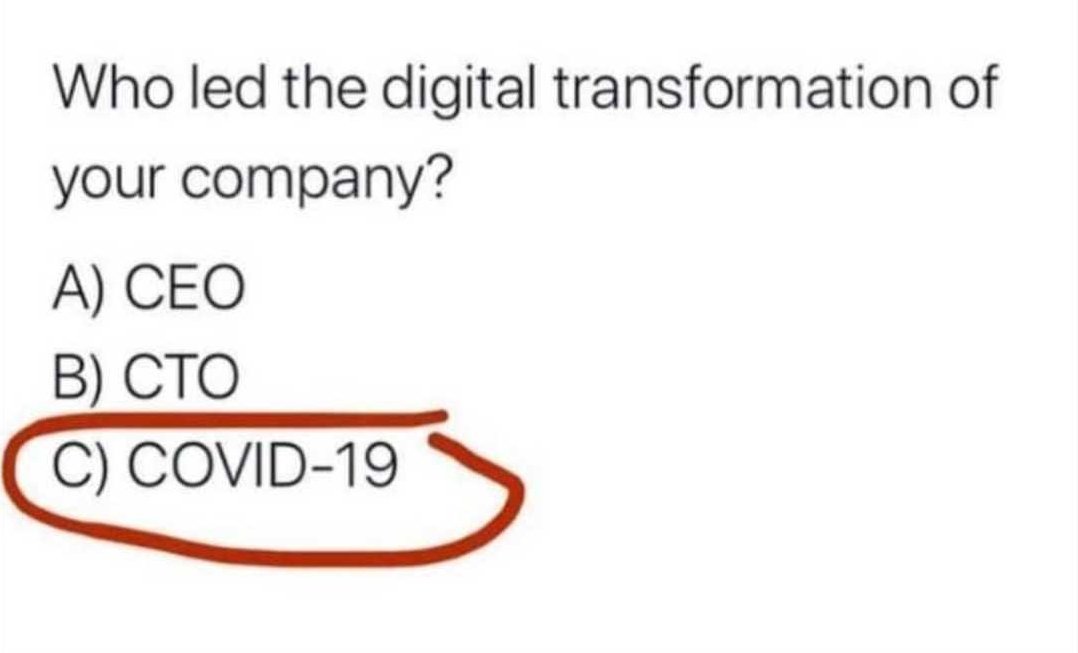 Priscila: Job, could you let us know why you decided to ask the whole team to work from home? Was it an order from the government or could each company choose what they wanted to do? How did you inform the team about what had to be done?
Job: It wasn't a governmental order but there were some guidelines suggesting people to work from home as much as possible. On March 9th (Monday), we decided to send an email to the team saying, "Hey, you can stay home/work from home if you prefer." But some people were still coming to the office. We repeated that same message on Thursday. But we started noticing that more and more companies were telling people to work from home.
We wanted to help to flatten the curve
So, on the 13th (Friday), we had more discussions about it with our in-house emergency response officers. We thought: "Should we make it mandatory to work from home, or not yet?" At that point, only seven people were working from the office. Later that day, after the late-night news and reading articles about what we could do to help "flattening the curve," Jeroen and I had another call and we then decided to close the office.
Jeroen: Yes. There would probably be some problems that resulted from telling people to work from home, but we thought we could solve them, even if we weren't completely ready yet. So, we hesitated at first, but we thought it was the right decision in the end.
Priscila: Most of the team don't use their personal computers for work and if there's no one at the office, they cannot access their PCs from a remote desktop. So, how was that dealt with? And what about colleagues who didn't have an appropriate place to work from home?
Jeroen: We thought this whole working-from-home thing would only last for two weeks. So, people thought they could work with less of their equipment from the office. So, I delivered basic stuff from the office to them. Two weeks later and the office was still closed. So, I delivered more stuff to them. People could also order desks, laptop stands, and other things we couldn't deliver, and the company offered to pay it for them.
Job: Everyone who was at the office that Friday (before we closed) helped to make sure everybody could access their computers remotely and we left all the PCs on there just in case. When we realized the situation would take more than two weeks, I started thinking if everybody had an appropriate place to work. I wanted to help them improve their workspace, but didn't know their exact setup. So, I asked everybody to send me a picture of where they were working. We noticed some people were working in, let's say, not ideal ergonomic conditions. So, we helped them improve their setup with equipment or furniture from the office or by ordering it for them. And since we have a quiz tool, I decided to create a quiz with pictures of their workspace (they had to guess which workspace belonged to which colleague), so they could have some fun and see how their colleagues were working. I thought it would help them to feel more connected to their colleagues.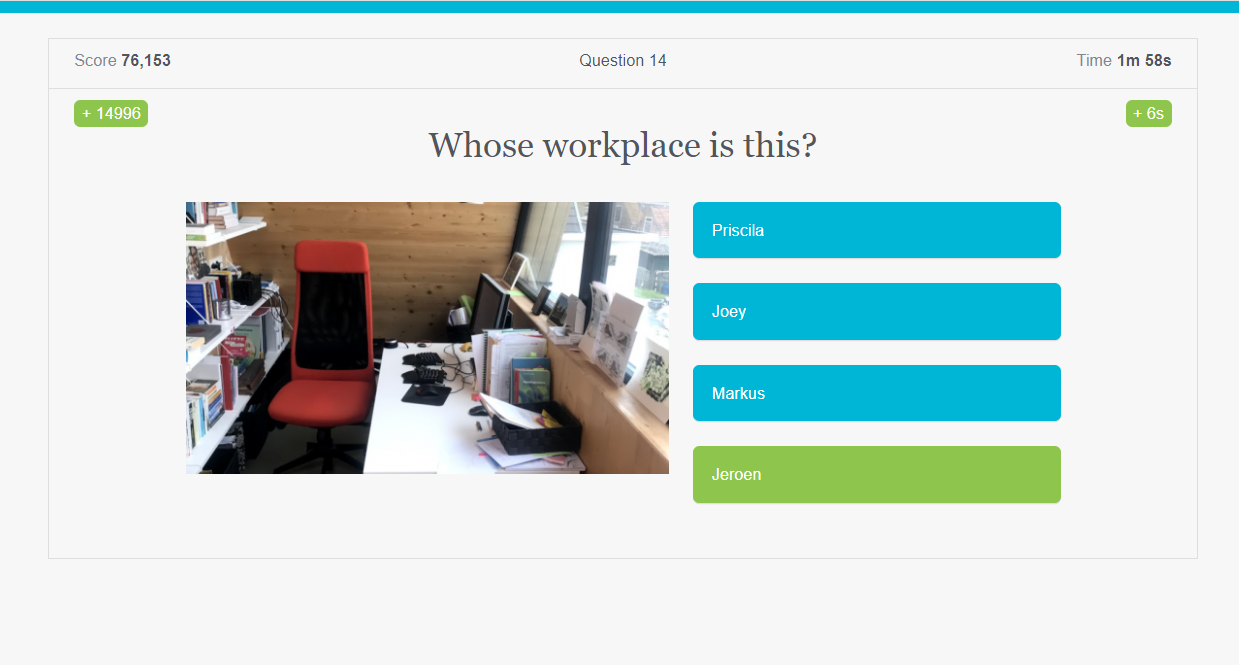 The workplace quiz
Priscila: Cool. I also saw some pictures (in Slack) of fruits that were delivered to colleagues in their homes. I haven't received them here [in Brazil], for obvious reasons, but could you tell me what was behind that gesture?
Jeroen: We had fruits available for consumption at the office, so people were used to eating them there. So, we thought it was a good idea to send them some fruits to show appreciation for everybody and lighten the mood because they all adapted so fast to the new reality. It was a nice gesture to send them something.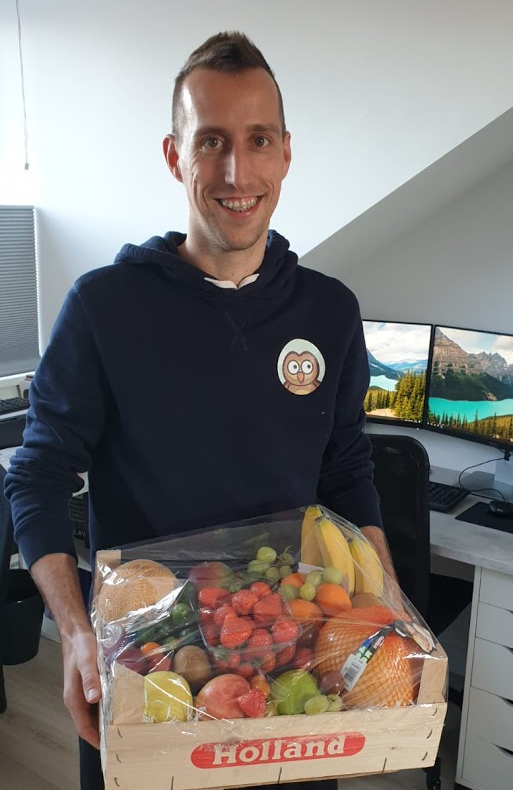 Job: We are now preparing something else to send to the team. It's still a surprise, but it will be something fun, to get their minds off things. And the other thing is that we decided to give everybody a day off to do some other stuff, to relax and not just be busy with work and looking at screens the whole time.
Priscila: I'm curious about the feedback from the team and your own experience with working from home. Could you tell me about that? Was everyone working at specific hours or they had a flexible schedule? What did they have to say about the experience?
Job: It was a big change for everybody. We strive to be a calm company and we felt it would only stress people more if we demanded a lot or were inflexible. So we just asked for and trusted everybody to do their best. We are not in a position to manage it all and that's great because a part of our goal as a company is to give more autonomy to people. And we are really proud of the team. Given the circumstances, everything keeps running smoothly and we feel like everybody keeps giving their best. We actually managed to get a lot of work done in the last few weeks.
Most of the feedback I received from the team was positive. The negative feedback that I got was that they told me they felt bored because they couldn't leave the house and do things as much as usual, or that it was harder to focus on work with kids around.
For me personally, I didn't feel so productive in the beginning, because I had to take care of the kids (my wife works in the healthcare sector). I felt grumpy and frustrated at first, but now I feel like I've got a good rhythm and can contribute more.
We wanted to give everyone peace of mind. We got really positive feedback. They were happy and felt secure and not stressed out
Jeroen: It's about trust and I trusted everybody to do their best. We also told them: "if you can't do all the hours, because of kids or other responsibilities, don't worry." We wanted to give everyone peace of mind. We got really positive feedback. They were happy and felt secure and not stressed out. They could compare it with other companies and friends who felt stressed and had to work extra hours … but they also miss the office. Some people felt stressed in the earlier weeks, not being so productive as usual.
I was less stressed than Job because I have only one child and my wife is at home. But I felt less productive and anxious, too. But now I got used to it and it's gone. We were really impressed with the flexibility and adaptability of the team.
Priscila: What about the work itself? Has anything changed in the way you conduct meetings, make reports, and take notes? Any lessons learned that could be kept in place after the restrictions are lifted?
Jeroen: We are making an experiment to try to have fewer meetings. At the office, it feels like we are working when we have meetings with a lot of people, but it can also be a waste of time, and that became clear when we tried to do these meetings online. It didn't work.
So, Joey [back-end developer] started the experiment of creating an online document with questions/things that needed to be discussed, etc, and asking people to write down their comments about the topic. One person was assigned to make the final decision on the topic. Much easier and less time wasted. So, we realized not every discussion required a meeting. We started doing "improvement kata" almost two years ago, so having clear target conditions and daily improvements prepared us for handling difficult times (although we could not expect this). We try, as a company, to be open to learning from our mistakes when things don't go well, and I think that adaptability helped. We were forced to make more experiments now, so we learned we could be even bolder with our experiments, and see what comes out of them.
We are very lucky to be in a type of business that could continue at this moment, we know that a lot of people and businesses have been struggling, so we are very grateful for what we have
Job: We had already been using Slack (a messaging app for work) to communicate with each other. But now, people are working with different schedules, so it became a bit overwhelming to have to read a lot of messages about many different topics when we start working. Slack allows us to create different channels for each topic, so we are trying to organize things into more specific channels. When we try something like Jeroen said, it's an experiment, so people are allowed to change it if it doesn't work. I think being like that gave us more flexibility to deal with a situation like this. We are very lucky to be in a type of business that could continue at this moment, we know that a lot of people and businesses have been struggling, so we are very grateful for what we have.
Priscila: Did you see any changes in the demand for Easy LMS during the crisis? Were you surprised? What did you expect and how did the company manage?
Jeroen: We have been investing a lot in our SEO from the early days of the company, so we could benefit from it now when there was a real rise in the demand for e-learning solutions. We saw a significant increase in the number of trials and traffic on the website. Luckily, we had just moved to an auto-scaling set up with our servers, which made the system more stable when more people are using the website. It was just a coincidence that we started this process four months ago.
We have Teacher and School plans that allow teachers and schools to use our tool at a lower price, so we could help them teach during this time. We also noticed a shorter sales cycle: people were ready to buy the software much faster than before.
Priscila: Very interesting. Are you eager to return to the office? Or is remote life much better?
Jeroen: I would definitely like to go back to the office. I think the whole experience has been a big experiment. What I learned from it is that we can work from home, but it also made me value the work we did at the office. I don't think we will become a fully remote company in the future.
Job: Same here. I really miss the real-life interaction with people. Because the kids are at home, I am not able to focus on work so much. I think I can have more focus at the office. I also miss having lunch and walks with the team where we could discuss topics unrelated to work.
This interview was conducted via Slack call.