What is an employee onboarding software?
Onboarding new employees is a task that includes both hiring and training newly hired personnel. If done in an efficient way, it can help you not only find but keep the best candidates, making sure they have a seamless adaptation to your organization.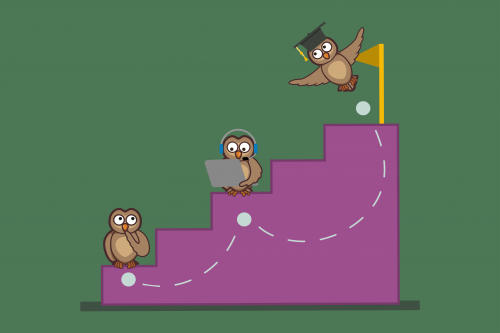 What is an employee onboarding software?
An employee onboarding software is a tool that allows you to screen candidates to find the best fit for your job opening and also to train until they learn the ropes of their new role.
Why use an employee onboarding software?
An employee onboarding software helps recruiters and trainers to streamline and scale their hiring and training processes. Instead of having to deal with a large pool of candidates for a job opening, you can save time and money by using a software that helps you create a filtering funnel until you only have your best candidates left. With those you can conduct a more extensive, face to face interview, and then facilitate the training with automated tools.
Employee onboarding software and our tool
Easy LMS has two types of tests that can be used for hiring purposes: Assessments and Exams. They can be used in a combined or separate way during the screening process.
Assessments are outcome-based tests. This means that there's no pass/fail mark, but different results depending on the respondent's answers. Assessments can be used for personality tests, for example, or tests to learn more about certain interpersonal characteristics of a potential employee, making it possible to find the best fit for your company. With Assessments you can find out about a candidate's career goals, interests, strengths and weaknesses, and if they would be a good fit when it comes to company culture.

Exams are more formal tests with a pass/fail mark. They can be used to measure the candidate's knowledge of a certain topic or area of knowledge. These types of tests are useful if you are looking to fill a position for which previous technical knowledge is required. Exams can include videos, images and different types of questions. It's possible to randomize the questions from a question bank, categorize them, reuse them, issue automated certificates if the user passes the Exam, and view and export the results into a spreadsheet.
After the hiring process starts the training process. With Easy LMS you can create and share online courses, and organize them in a learning path for the trainees.
Courses are used to organize and share the training material. Instead of sending emails, creating separate PDF files or PPT presentations, creating an online course allows you to organize all your training material in one place. You can include videos, images, quotes, links and even Exams created with Easy LMS. After that, you can simply share the link of the course with your audience.

Academy is a portal for the trainees. If you are working with several courses and don't want to share each course separately, you can make all your learning content (or parts of if) available to your users with Academy. There, you can create groups of users and allow them access to the portal where they will find all your learning content in one place.
Read more about LMS for employee onboarding.
Read more about LMS for customer onboarding.
Would you like to know more?
If you would like to know more about how to make your hiring and training processes even better, don't hesitate to request a free live demo with one of our consultants. We will do our best to understand your use case and see if we are a good fit for you. You can also do a 7-day free trial of any paid subscription plan. Read more about creating online tests for employees.
More articles that might interest you